ZTE Nubia Z9 Sketches show bezelless 2.5D display and physical home button!
Ever since Ni Fei, the General Manager of ZTE's Nubia division confirmed the existence of a bezelless ZTE Nubia Z9 flagship, we have been seeing a number of leaks about this upcoming device. Yesterday, we came across beautiful renders which gave us a glimpse of the bezelless display of the device.
Today, a person familiar with the matter has revealed a few set of sketches which claims to be of the Nubia Z9 flagship. From what we can see, the sketches does look similar to the leaked model that we saw back in January. However they further throw in some light about the phone's materials, button and the overall design.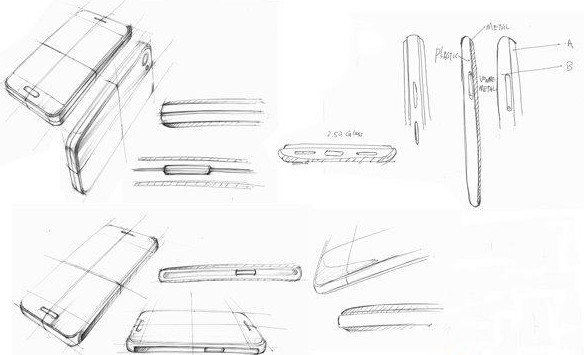 The sketch shows that Z9 could feature a physical home button. Interestingly, the model which was leaked earlier had capacitive buttons. Traditionally, in this age of advanced smartphones, companies often put in a physical home button on their flagship devices to incorporate a fingerprint sensor. For example, the new HTC One M9 Plus has a fingerprint scanner on its home button. So, ZTE may incorporate a scanner inside this home button, but we can't be sure of that at the moment.
Coming to the other details, the ZTE Nubia Z9 is said to come in a metal plus plastic body. It looks the sides and the front will be made out of plastic while the back will be metal or at least come with a metal finish. Another interesting feature revealed by these sketches is the 2.5D glass. So, it looks like the Z9 flagship will join the likes of many other premium phones by featuring 2.5D glass display. Finally, the sketches show that the phone will have dual speakers at the bottom with the MicroUSB port in the middle.
While these sketches are said to be made by a person who knows the new ZTE Nubia Z9 flagship, we can't rely on these completely. But, it does give us an idea about what to expect from the upcoming flagship device from ZTE.
So, what do you think about the upcoming Z9?