Top 10 Smartphones In the First Half Of 2016 (AnTuTu)
Now that we are officially into the second half of 2016, we can take a look at the top 10 smartphones in the first half of 2016. This is a list released by the popular benchmarking app AnTuTu. Unsurprisingly, there are a lot of Snapdragon 820 powered smartphones. Another thing to note is that 6GB RAM and 64GB ROM have become the standard among flagships this year. While this configuration would have sounded a lot last year, this year, it looks like there could be even 8GB RAM phones! But more on that later. In this article, let's look at the top 10 list!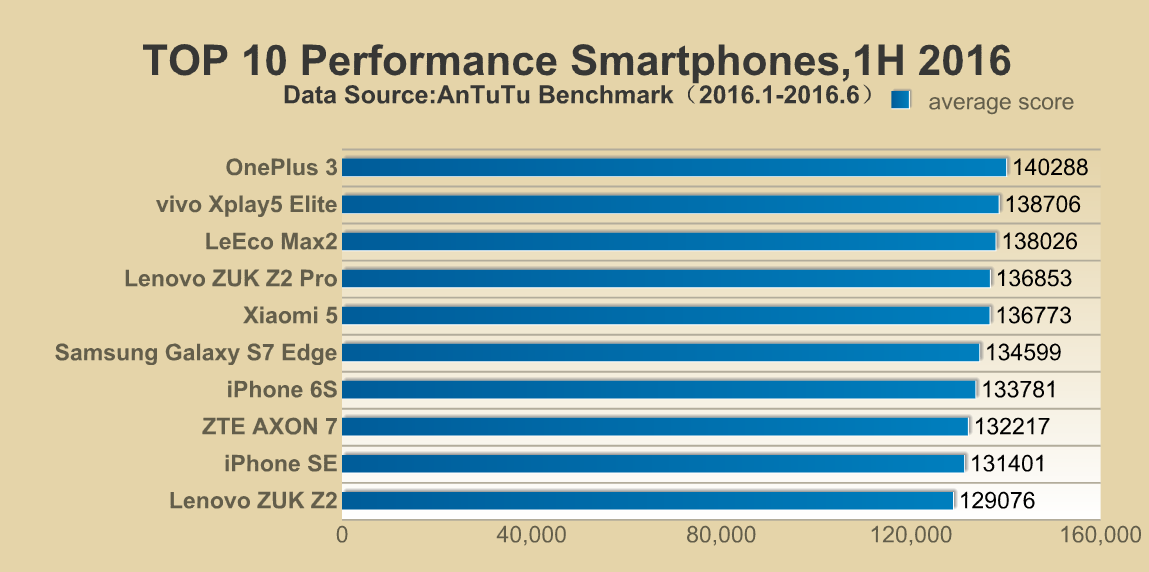 On top is the mighty OnePlus 3 flagship powered by Snapdragon 820, 6GB RAM and 64GB of internal storage. The phone managed to reach an average score of 140,288, which is the best average scores we have seen till date on AnTuTu. The phone manages to reach this level because the Snapdragon 820 chip inside is not throttled, unlike some other flagship phones, which unleashes its full potential. So, despite entering the market late June, the phone has topped the AnTuTu benchmark's top 10 list.
Next up is another Chinese smartphone, the Vivo XPlay 5 Elite edition which was also the world's first 6GB RAM phone. The phone managed to score 138,706 points on average on the benchmarking website, thanks to its top-end specs that include Snapdragon 820 and 128GB ROM. Another thing to note here is that it is also the first Chinese dual curved display smartphone.
Next up is the Le Max 2, another Snapdragon 820 + 6GB + 64GB ROM phone. Well, now there's a 128GB ROM model as well. This particular device managed to score 138,026 on an average, which is pretty good and just below the XPlay 5 Elite model. In the fourth and the fifth position are two more Chinese flagships namely the ZUK Z2 Pro and Xiaomi Mi5. In all, there are seven Chinese models (including Axon 7 and ZUK Z2) in the top 10 list which clearly shows the dominance of these phones in the first half of 2016. Non-
Non-Chinese phones  that made it to this list include the Galaxy S7 Edge, iPhone SE and the iPhone 6S.
So, these were the top 10 smartphones of the first half of 2016! These scores were calculated from the data collected from January 1 to June 30 and with at least 2000 scores registered on the app (v6.0) for each model.
We have reviewed almost all of these smartphones. You can check out each model's review from the links above.