Galaxy Note 7R Release Delayed? Needs More Certifications to Launch, Reveals Report
by Anvinraj Valiyathara May 15, 2017 8:36 am0
The refurbished Galaxy Note 7 is expected to launch in June in South Korea. However, there is a possibility that its arrival may get delayed since Samsung is yet to receive certification from two major agencies in South Korea.
The Samsung Galaxy Note 7 that had launched in August 2016 had received positive reception from critics and users. However, it met with premature death in October 2016 as Samsung had to discontinue the phablet because its faulty battery caused it to explode without warning.
Since Samsung has a huge stock of recalled Galaxy Note 7 units piled up in its warehouses and disposing so many devices can impact the environment, the company had confirmed in March that it would be launching refurbished edition of the Galaxy Note 7 in select regions. It is expected to launch as Galaxy Note 7R and here is a leaked image of the alleged phablet: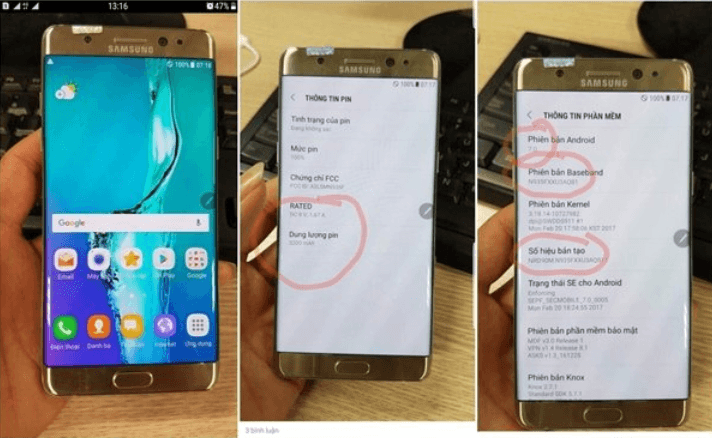 Read More: Samsung Galaxy Note 8 Renders: Infinity Display, Thinner Bezels & Quad Cameras
The Galaxy Note 7R has received Wi-Fi Alliance and FCC certifications. It has also bagged Bluetooth SIG certification. Since the Note 7R have received these certifications, it seems that it will be launching soon. However, according to a Korean publication, before Samsung begins selling the Galaxy Note 7R in South Korea, the Galaxy Note 7R should be examined by two agencies such as Korean Agency for Technology and Standards and the National Radio Research Agency.
There is a possibility that the Note 7R's arrival may get delayed because Samsung has not yet applied for approval with these Korean agencies. According to a spokesperson from National Radio Research Agency, "If Samsung makes such a request, we plan to examine and verify the safety of the device by putting users' safety as the top priority."
The Galaxy Note 7R is expected to come with same specifications as the original Note 7. However, it will be running on Android 7.0 Nougat instead of the older Marshmallow. Also, it would be packed with a 3,200mAh battery instead of the 3,500mAh battery that came in the original model. In South Korea, it is rumored to launch with a pricing of 700,000 won ($620).
Samsung is expected to launch the upcoming Galaxy Note 8 in August or September. Hence, to ensure the Note 8's sales are not disturbed because of the cheaper Note 7R, Samsung should launch the latter in June or early July.