Xiaomi Products Win Big in The Good Design Awards 2017, Mi Scooter Among 100 Best Designs
Xiaomi has continued to blaze the trail in the aspect of exception designs for its products and these innovative skills have not gone unnoticed. The company's products have garnered several awards in the past like the German Red Dot award won by the Mi Band 2 and the Mi Electric Scooter. Xiaomi's tech gadgets have once again shone brighter by getting recognised as winners of the Good Design awards. The award recipients include the Mi Scooter, Mi Laser Projector, Mi Walkie-Talkie, Mi TV 4, Mi Mix, Mi VR headset as well as the app interface for the Mi Water Purifier and the Mi LED Desk Lamp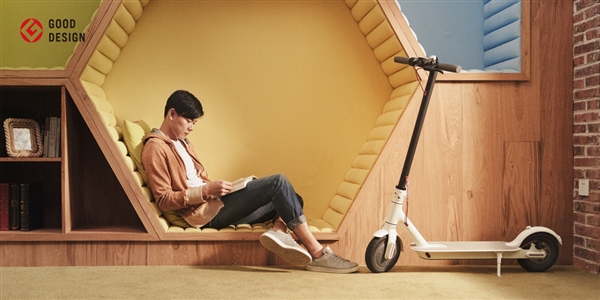 The most spectacular of the lot is the Mi Electric Scooter which was voted among the top 100 best designs for 2017, with the likes of the Tesla's Model X electric car and other innovative products. The Mi Electric Scooter is one of Xiaomi's best selling product which comes with a minimalistic yet beautiful design.  The main body employs a styling element of track shape in neutral colours with red hints adding to the personality. The scooter can hit a speed of 25km/h and has a range of 30km on a single charge. Its front wheel is outfitted with electronic braking & regenerative braking system, and the rear one with disc braking.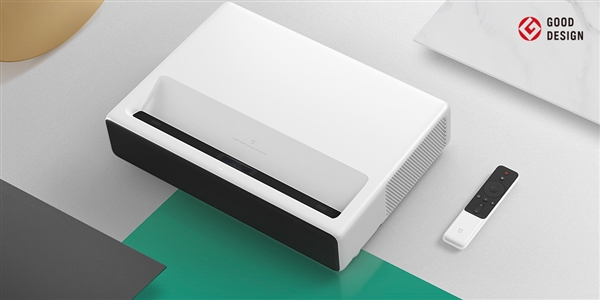 The Mi electric Scooter is only one of two products from China to be among the Good Design Best 100, the other being he SmartMi Inverter Air Conditioner. The award page for the electric scooter also reveals its designers as Zhou Tuo, Li Ningning, and Zhao Ziran, with Ningning being the director of the team. In addition, Good Design gave their evaluation of the product thus; "An overall very intelligently designed and executed scooter smartly incorporating all essential considerations from various safety devices to accommodation for the required battery. The way the scooter is folded is very carefully considered and very user-friendly to operate. The way it hints the association of the classic image of a skateboard is highly commended. The colour scheme is also very smartly coordinated, resulting in a minimalistic yet very vividly defined statement And indeed it is surprisingly powerful during the operation".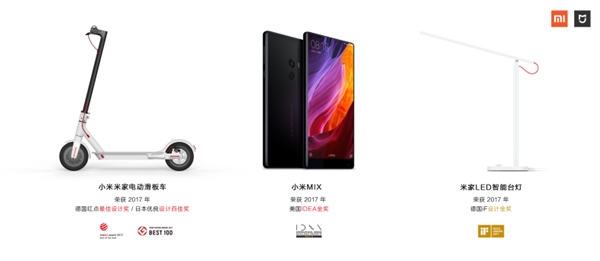 Don't Miss: Xiaomi Mi Band 2 Wins German Red Dot Design Award, A Special Limited Edition Could Be In The Works
We mustn't fail to point out that the Mi Mix also won the Good Design award, making it one of Xiaomi's most decorated product till date. The device had earlier won the German Red Dot award as well as the iF Design Award and the International Design Excellence Award (IDEA) Gold award. The device also won multiple awards after it was showcased at CES 2017, including the Best of CES 2017 award by TechAdvisor.
(source)