Since last year, Xiaomi fans were expecting that the Xiaomi Mi 7 may debut around the first quarter of 2018. However, instead of debuting Mi 7, the Chinese firm introduced the Xiaomi Mi MIX 2S flagship phone powered by Snapdragon 845 chipset in March. After its debut, it was speculated that the Mi 7 would get official within the first half of this year. However, the Xiaomi Mi 7 rumors have considerably reduced in the recent weeks. Not only multiple proofs of the Xiaomi Mi 8 smartphone have surfaced in the past few days, but also the Chinese firm has confirmed that it will be launching as the 8th anniversary edition smartphone. However, why did Xiaomi decide on calling its upcoming flagship phone as Mi 8 and not Mi 7? The company has released a new poster today to answer this question.
According to the below shown poster, since the phone turned out to be way beyond expectations, the company opted to go with Xiaomi Mi 8 moniker for its upcoming flagship.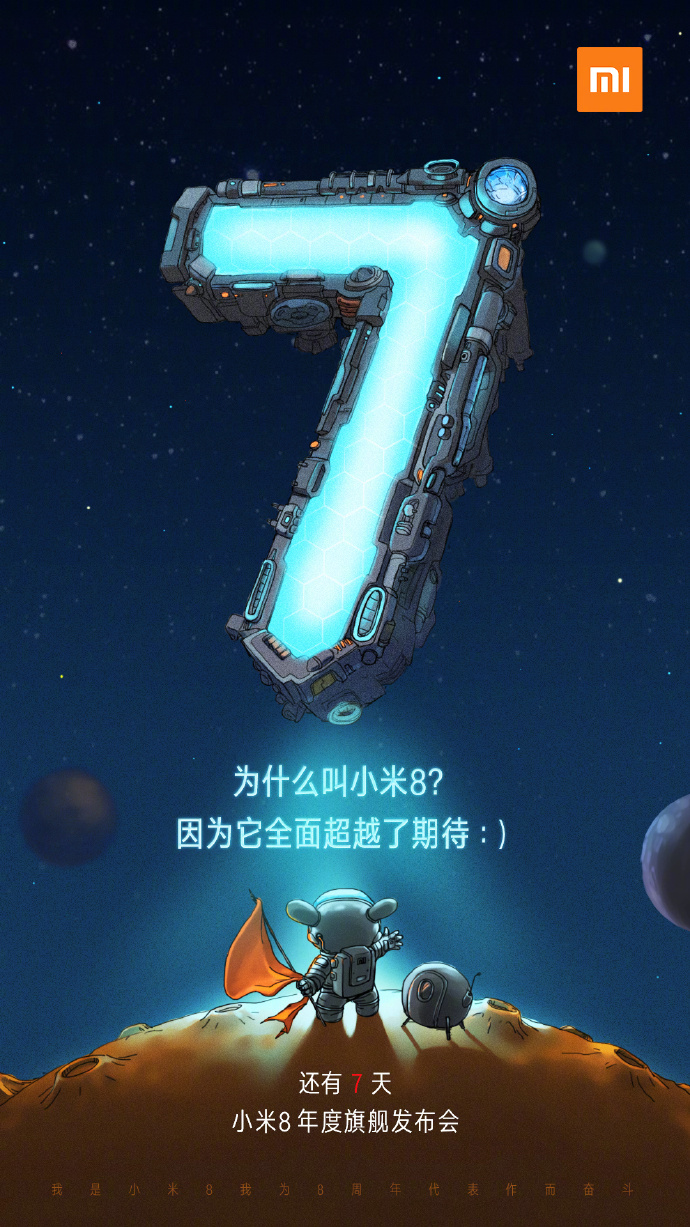 Leaked images and a hands-on video of the alleged Xiaomi Mi 8 has revealed that the handset would be sporting a notched display design like the iPhone X. Its notch is wider as it is said to feature structured light 3D module. Hence, the Xiaomi Mi 8 is rumored to debut as the first Android smartphone with 3D facial identification feature.
The other rumored features of the Xiaomi Mi 8 include 6.01-inch OLED display, under-display fingerprint scanner, Snapdragon 845, 6 GB / 8 GB of RAM, 64 GB/ 128 GB of storage, AI camera enabled with 2x optical zoom, Android 8.1 Oreo with MIUI 10, and wireless charging support. The rumor mill has already revealed the speculated pricing of the phone. The 64 GB storage + 6 GB RAM edition of the Xiaomi Mi 8 is rumored to cost 2,799 Yuan (~$438). The higher model having 128 GB storage + 8 GB RAM is likely to carry a pricing of 3,199 Yuan (~$500). Another report claims that the base model may cost 2,999 Yuan (~$469).
Read More: TENAA Reveals Full Specs Of Xiaomi M1804C3DE, M1804C3CC, & M1804C3CE
The huge number 7 on the poster denotes that there are only 7 days remaining for the forthcoming annual product launch event. The May 31 event will also mark the arrival of MIUI 10. The company is also expected to announce the Mi Band 3 fitness tracker at the same platform.
Do you think that the Xiaomi Mi 8 offer features that are beyond expectations? Share us your views by posting your comments below.
(source)