Qualcomm reveals Xiaomi, HMD, OnePlus, OPPO, Vivo are among its 'committed' 5G partners for 2019
Qualcomm unveiled the Snapdragon 675 chipset on Monday in China and Sweden with its focus being on enabling outstanding gaming experiences, advanced AI capabilities, and "cutting-edge" camera performance. During the event, the U.S chipmaker delved into the trending topic of 5G connectivity. Qualcomm announced a number of breakthroughs it had achieved on the next-generation 5G technology.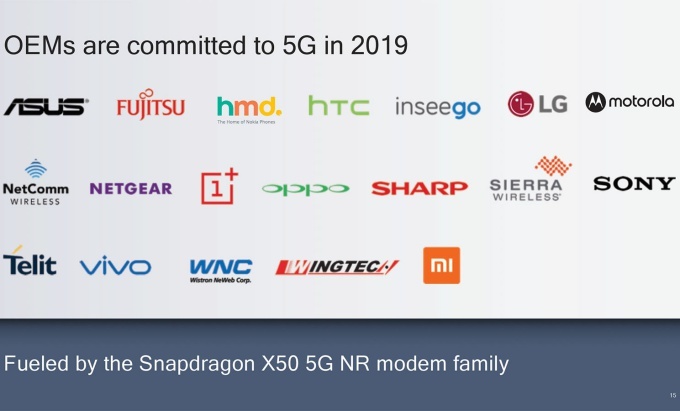 Most of the things disclosed are technical and rather vague but the bottom line is that they will help pave the way for the arrival of the world's first commercially available 5G mobile devices next year. Qualcomm's Snapdragon X50 modem which will power the 5G technology will be on a number of phones from major OEMs including the OnePlus 7. Qualcomm released a list o 19 OEMs who it says are already committed to its 5G vision for 2019. The list contains popular brands such as ASUS, Xiaomi, OnePlus, OPPO, Vivo, HMD, HTC, Sony, Sharp, LG and Motorola. Others include Fujitsu, computer networking firm Netgear, wireless communications equipment maker Sierra and a couple of names that don't sound familiar as far as mobile phones are concerned. It is possible Qualcomm is collaborating with these companies to speed up the rollout of the 5G infrastructure on carrier networks.
Read Also: Xiaomi to soon launch Qualcomm Snapdragon 675-powered smartphone
A number of the listed smartphone makers have already confirmed they will launch a 5G-capable phone next year but we can't say who will be the first. Other firms such as Huawei and Samsung and perhaps Apple are likely also working on the emerging technology.
(source)