Here's an In-Depth Look at All the Upcoming Foldable Phones and When They'll Launch
In the natural evolution of smartphones, full screen phones are just a pit stop. The real future of smartphones is likely going to be foldables. While foldable smartphones are still in their nascent stages, in the next couple of years, they'll no longer be concepts. Every major smartphone company is said to be working on at least one foldable phone design and it'll only be a matter of time we start seeing these concepts turn into reality. In fact, a couple of smartphone manufacturers have already confirmed that their versions of foldable smartphones are already near commercial release. We'll likely see at least two new foldable smartphones in 2019, but personally, I believe, this figure is going to be higher.
Foldable Phones Make Sense
As smartphones are getting bigger in size, we have come to a point where the term 'phablets' have become redundant. What was initially a special niche segment, now most flagships are essentially phablets. That's the new normal, hence they don't need a special name.
As the race to reduce bezels around the display have come to a point where we have had to add a slider to the device, the next big step forward is going to be foldables. Even with zero bezels around the display, there's a certain limit to a smartphone's size since we can't hold huge phones comfortably. So, what's the next best solution without really degrading the user experience?
Foldables.
Our love for large screens will never be satiated. As our media consumption on mobile devices have increased, there have been an increased demand for large screen devices. With high-speed internet access available for mobile devices, especially after the availability of 5G networks, our media usage on mobile devices is going to shoot up. This brings up the need for larger screens and hence foldables. Maybe, in the future, we could see smartphones with multiple folds too! It makes sense on so many levels and the first gen. foldable devices with a single inward or outward fold could just be the start of this revolution.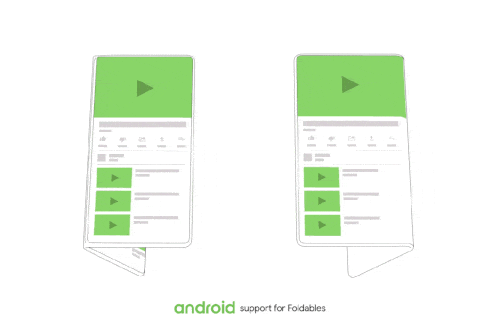 Even Google agrees that foldables make sense. In fact, in the recent iteration of Android, there's a special support for smartphones that fold inwards or outwards. Native Android support for foldables is definitely a welcome sign for its future. Plus, the screen continuity feature, which essentially expands the app in view as you open or fold an app looks really cool!
Now that we've established why foldables make sense, let's see which manufacturers are on their way to release one.
Which Companies Are Working on Foldable Smartphones?
Samsung
Ever since we saw a glimpse of the flexible display on the Galaxy Note Edge model, we knew that a foldable smartphone would come from Samsung in the near future. While it's been four years since the launch of the first Edge model with a curved screen, we finally have a launch confirmation.
After years of rumours and speculations, Samsung officially demoed its first ever foldable smartphone at the recent Developer Conference in the US. The company also confirmed that a commercial version of its foldable smartphone will be launched sometime in 2019. The Infinity Flex display will go into mass production in the coming months and we can expect the phone to be available later in 2019. Note that Samsung adds that the flexible display can be folded hundreds of thousands of times without showing any real signs of wear and tear. That's pretty impressive and dismisses our first major concern associated with a foldable smartphone.
DESIGN: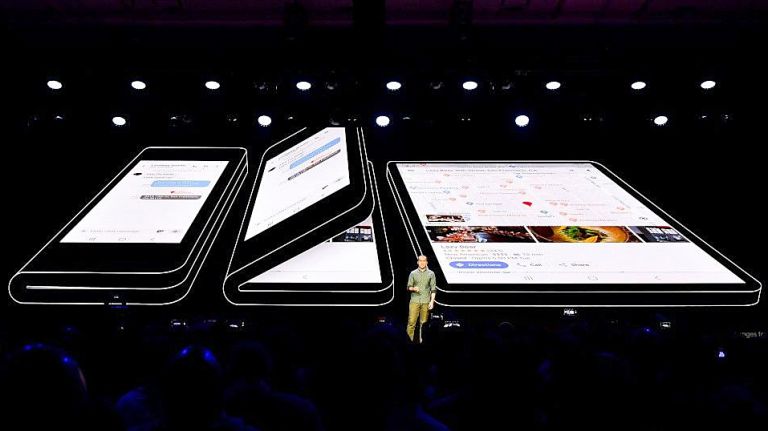 The Galaxy F or X or whatever it'll be called at launch is confirmed to feature a 7.3-inch large display that folds inwards. When you fold the device, you are left with a small 4.5-inch display up front. So essentially, there are two displays on Samsung's foldable phone — a regular one up front and a larger infinity flex display inside.
The particular design is likely based on this patent filed by Samsung.
RELEASE:
Expect the foldable Samsung phone earliest by CES 2019, but MWC 2019 showcase is more likely with its availability probably scheduled for a few months later. Yonhap reports that the launch could be as early as March alongside a 5G version of the Galaxy S10, but we'll have to wait for more details.
Huawei
Huawei is yet another company who has confirmed that a foldable smartphone will meet us in 2019. In the past few years, the company has stepped up its game in the smartphone market with a lot of innovations, including a four camera setup on the new Mate 20 Pro. It's not even shy of putting very large screen in its smartphones, like the recently released 7.2-inch Mate 20X (our video review here!).
DESIGN: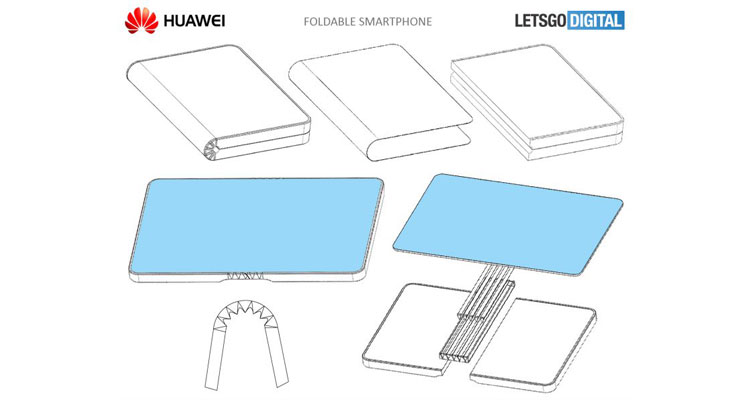 Huawei is in a race with Samsung to release the first foldable smartphone by a major brand. And it's determined to win. Unlike the traditional design where the display folds inside, Huawei seems to be working on a device that folds outwards. So in the unfolded position, there will be an 8-inch large display, making it essentially as large as a tablet. However, you can fold this display outwards, essentially, keeping just one side of the screen in view. This is exactly the opposite of what Samsung is doing. Samsung's foldable phone folds inwards and has a second screen up front that will work in the smartphone mode.
While this brings up a lot of questions like how does Huawei plan to protect the display if its always exposed, the real question is whether this is the final design. Huawei is yet to confirm the design on its upcoming foldable smartphone, so we can't say anything for sure.
But there have been multiple rumours and even a patent at WIPO (featuring this outward folding design) that tips that the Chinese tech giant could be working on such a design.
RELEASE: 
Huawei could beat Samsung to the release of its first foldable smartphone at MWC 2019. Interestingly, even Samsung is said to showcase its foldable phone at the same event. So, I guess, the real competition would be in who manages to make its device available to the market first.
Most recent reports indicate that Huawei could release its foldable smartphone first in South Korea (Samsung's home market!), thanks to its early 5G commercialisation plans. This goes on to hint that its foldable phone will support 5G as well.
Unfortunately, no word on its pricing yet, but expect it to be close to the $2000 mark. Huawei isn't shy of slapping an expensive price tag to its products (Mate 20 RS being the case in point), so this isn't a device that's going to be affordable.
ROYOLE:
Royole is a surprise entry in this list and to be honest, no one ever thought that a startup would beat giants like Samsung and Huawei in releasing the world's first commercial foldable smartphone. And it did this using in house tech which is pretty impressive.
DESIGN: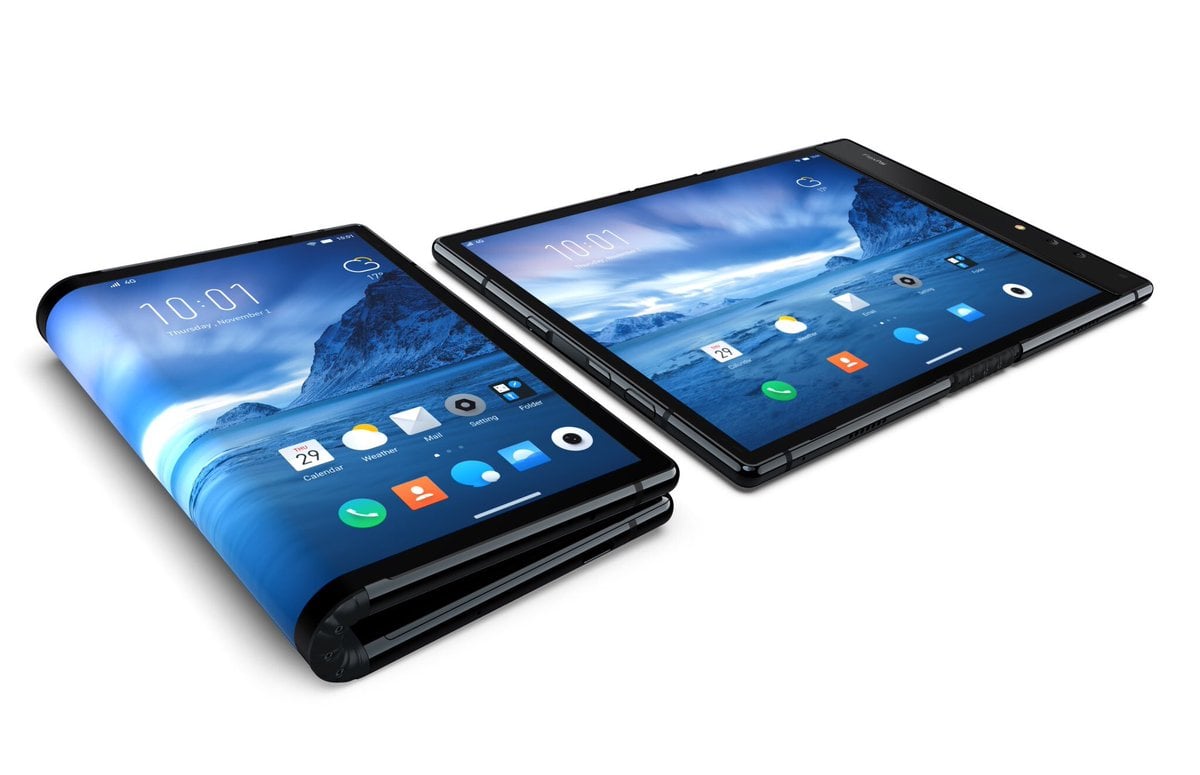 The Royole FlexPai adopts an outward folding design, which means there is one big display on the outside. The phone folds in the middle leaving the display exposed on the two sides. It works as described and the design really brings the concept into reality. Despite being a working model, the FlexPai doesn't look very premium. It's clear that the FlexPai isn't a polished device, and that's usually the case with first gen. devices. Big brands like Huawei and Samsung are likely going to come up with a much better design for their foldables.
RELEASE: 
The Royole FlexPai foldable smartphone will reportedly ship in December. While we are still not sure of the company's scalability of such a design, it would really be an achievement for a small six year old company to beat the big giants in releasing such a device.
The FlexPai is priced from 8999 to 12999 yuan ($1,295 to $1,871), which isn't exactly cheap. But if you want a foldable device for yourself, then this is all you've got right now.
LG
A foldable smartphone from LG is in the cards and it's not surprising given that it's currently one of the biggest display companies in the world. The company has already demoed flexible displays in the past and now it's working on a model that folds.
DESIGN:
LG is said to be working on a device that folds on the outside, similar to the Huawei design. While we don't have an official confirmation on the design from LG, this is what it could look like according to the company's recent patent at WIPO.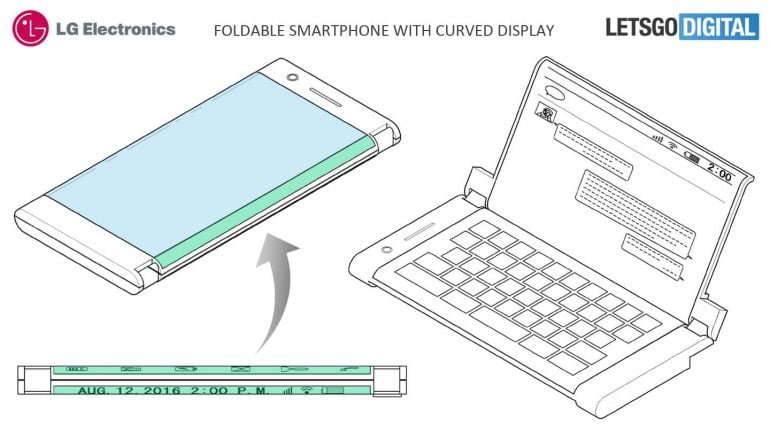 The images, which were attached to the patent, reveals that both the displays connected through two hinges — one on the top and another on the bottom side. This enables both screens to open and combine to form one large display.
In a partially open position, the device can be used by two persons to watch video separately, using the two headphone jacks. Interestingly, both hosting packs their own battery as well as camera module. While the patent was filed in September 2016, it mentions that the primary display is equipped with an under-display fingerprint sensor.
RELEASE: 
LG is not going to focus on launching its foldable smartphone anytime soon. Instead, the company is taking the "perfecting the experience" approach before bringing it to the market. This could mean that we might not see a foldable from the South Korean company next year. As such, the details are very scarce right now.
ZTE
ZTE was one of the first companies to tease us with the idea of foldable smartphones. Well, its innovative Axon M failed to impress the likes of many, because it was basically two displays joined together with a hinge. In the tablet mode, you could clearly see the gap between the display. In short, it was not really the foldable experience we expected. However, ZTE's VP of Marketing, Jeff Yee had something to add in a recent interview. "We'll eventually get to something that's truly bendable," Yee said. "There's a lot of others things that we might be adding over time."
DESIGN: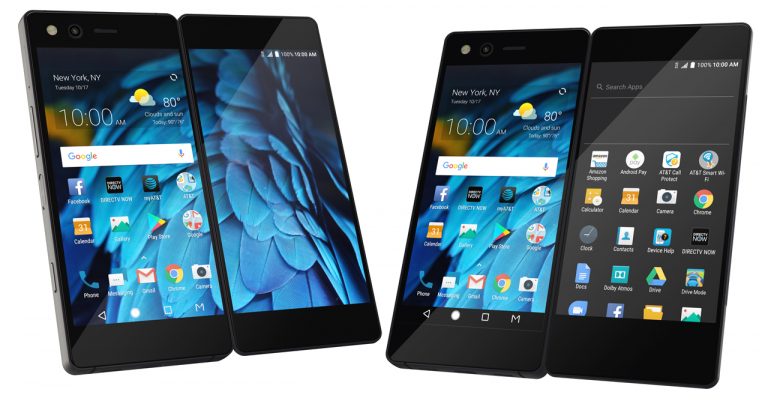 ZTE's foldable phone will most likely be an extension of the AXON M. We could see a flexible display (instead of the two display design) that folds at the center outwards. The company did have a few nifty features to make use of the two displays on board and we could see a similar application for its real foldable phone as well.
RELEASE: 
Considering what ZTE had to face earlier this year, it seems very unlikely that we'll see a real foldable smartphone from ZTE anytime soon. All we know right now is that the company is working on one but no word on a release date yet.
MICROSOFT:
Microsoft may not be known for its smartphones (at least not now), but the company has a solid R&D team and knows how to make quality products (eg. Surface tablets). We have been hearing about the rumoured Andromeda surface phone for a very long time and reports say that the phone, when it launches finally, could feature a foldable design.
DESIGN:
Unlike LG, who seems to be focused on enhancing multi-media experience with its foldable phone, Microsoft is reportedly all about increasing productivity. The company wants to blur the line between mobiles and PCs and a foldable design seems to be the best way to achieve this.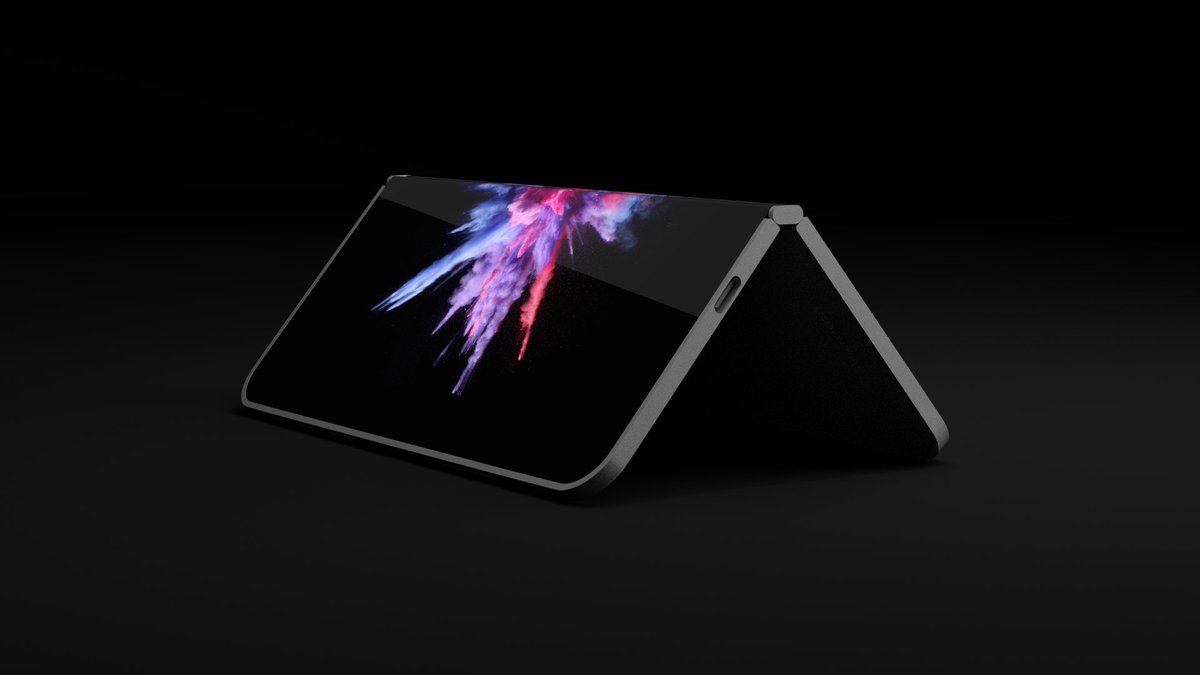 If you have any doubts about its existence then know that the verge managed to get their hands on internal document talking about the device. In the words of the verge,
"It's a new pocketable Surface device form factor that brings together innovative new hardware and software experiences to create a truly personal and versatile computing experience."
So, it's yet another design where the display folds on the outside. The prototype design seems to be similar to the renders by the designer David Breyer.
RELEASE: 
While the foldable device from Microsoft is in the works, there isn't any guarantee that it will see the light of the day. Verge's article states that there's a chance that the project could be canned at any stage. So, don't get your hopes too high.
APPLE:
Apple won't be left out of the foldable party as the Cupertino giant is said to be working on a foldable prototype.
DESIGN:
Apple's design seems to involve overlapping hinges or other features such as magnetic structures (Apple loves magnets!) to allow the flexible display to bend. The design could be tweaked to allow the display to fold inwards or outwards. These details were leaked by a recent patent filing by the company.
"The hinge may be configured to allow the flexible display to be placed in a front-to-front configuration in which an active side of the display faces itself or a back-to-back configuration," reveals the patent. 
Basically, the design is going to be similar to what we have been seeing from other patents. However, Apple is known to release refined products in the market which means that the design would most likely tweaked to offer a seamless experience. One likely change is going to be the type of hinge used as the skeleton to the flexible display.
Interestingly, there's one more design patented by Apple, which looks a lot more futuristic. The patent reveals that the display can be rolled up like a sheet of paper. Now there's a reason why we call it futuristic, because it's not really going to happen anytime soon. The first gen. foldable smartphone from Apple is likely going to feature a folding design similar to the ones we have been seeing from other brands.
RELEASE:
It's too early to say when Apple will release its foldable smartphone but early reports quote a 2020 deadline. CNBC in its report earlier this year quoted Wamsi Mohan from Bank of America Merrill Lynch "Our checks also suggest that Apple is working with suppliers on a foldable phone (that potentially could double up as a tablet) for launch in 2020."
LENOVO / MOTO
Lenovo / Moto seems to be working on a different kind of foldable phone. Patents reveal that the company is trying to make a smartphone more portable without compromising on the screen real estate. This is made possible by adopting a design similar to a clamshell phone, like the iconic Moto Razr flip series.
DESIGN: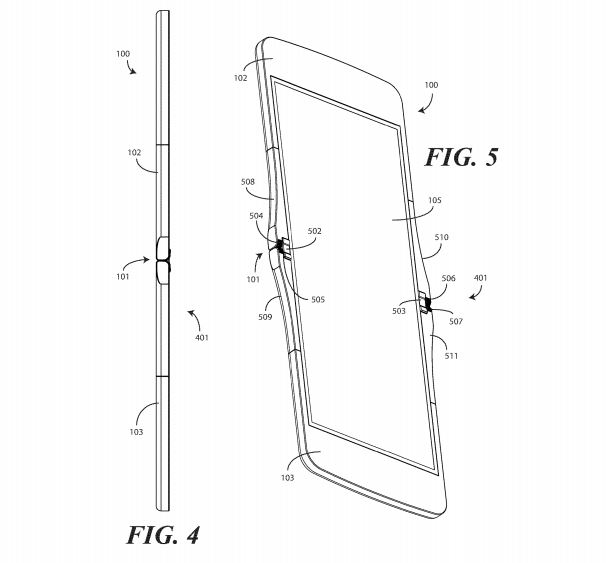 Unlike other companies where foldable phones feature a tablet sized display that folds into a compact phone, Moto seems to be working on a device that makes an existing smartphone sized display even smaller. Patents reveal that the phone features a hinge in the middle and the regular sized display closes inwards to take the shape of a clamshell phone. It's basically a flip phone with a  flexible display.
RELEASE: 
While Moto hasn't revealed anything about foldable smartphones, we know from Lenovo that they are very much invested in such a device. The company had earlier teased a similar looking foldable phone with clamshell design but we still don't have a word about its release date. Considering they managed to show a prototype in action, we could see a Lenovo / Moto branded foldable phone before other companies.
This turned out to be a really long article. But if you have reached here, well done! This means that you've read the entire article, or at least scrolled through it. As a bonus, I'll add that Xiaomi, OPPO, and even ASUS is expected to be working on foldable smartphones. You can read about the patent from OPPO here or about Xiaomi's first foldable smartphone news from here.
This kind of sums up about what we know about foldables so far.