OnePlus 5 Unveiling on June 20? Save the Date, Says the Leaked Image [UPDATE]
by Anvinraj Valiyathara Jun 5, 2017 11:10 am0
Update: The image that we here in this post is an older image from OnePlus for OnePlus 2. Here is the link to the official tweet that carries the image and confirms on April 20, 2015 launch date for OnePlus 2.
In the previous week, a leaked poster had surfaced to reveal that the OnePlus 5 would be unveiled on June at 15 at 3:00 PM. It carried a OnePlus logo, but there was no way to confirm that it originated from OnePlus.  Even a leaked internal mail suggested that June 15 is the launch date of OnePlus 5. Today, another leaked image has surfaced that reveals that OnePlus 5 would be announced on June 20.
The new image has a OnePlus logo and circle marked on June 20. It also carries a text that reads "save the date." Again, there is no concrete way to confirm that OnePlus 5 would be really launching on June 20. Other rumors hint that OnePlus 5 may get unveiled on June 21 or June 22 or in the last week of this month, probably on June 28 or June 29.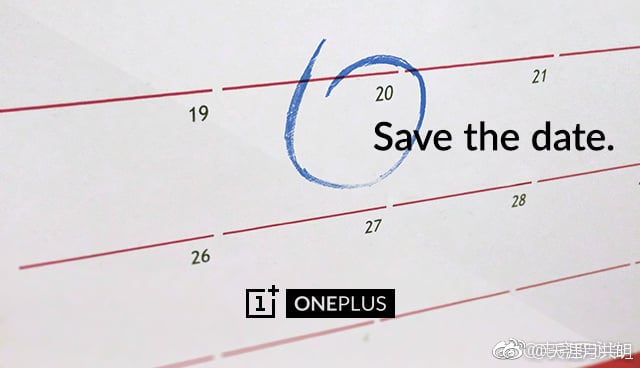 Read More: OnePlus 5 Camera Is As Good As The Galaxy S8 Reveals Chinese Blogger With The Phone
OnePlus is yet to confirm on the unveil date of OnePlus 5. The company has only confirmed that its upcoming flagship killer will be launching in summer. Last year, OnePlus had confirmed the launch date of OnePlus 3 on June 1 and it was introduced on June 14. The OnePlus 3T launch date teaser was released on Nov. 8 last year and it was announced on Nov. 15.
It seems that the Chinese firm may confirm on the launch date of OnePlus 5 or release a teaser on it around one or two weeks before it gets unveiled. Hence, if the OnePlus 5 is really going to be announced on June 20, the company may release a launch teaser by this week or next week.
The OnePlus 3T is expected to get discontinued once the OnePlus 5 arrives. The upcoming flagship is confirmed to feature a Snapdragon 835 chipset and it is expected to come with a 5.5-inch full HD display. It is a slimmer phone compared to its predecessor. It is heavily rumored to feature a dual rear camera module. The recent camera samples that were allegedly captured using the OnePlus 5 suggests that it would be featuring a monochrome sensor. This indicates that it will be coming with dual rear camera. A leaked sketch of OnePlus 5 shows the dual cam sitting on the top-left corner of its rear panel.